What is immersive customer experience and how can MSMEs use it?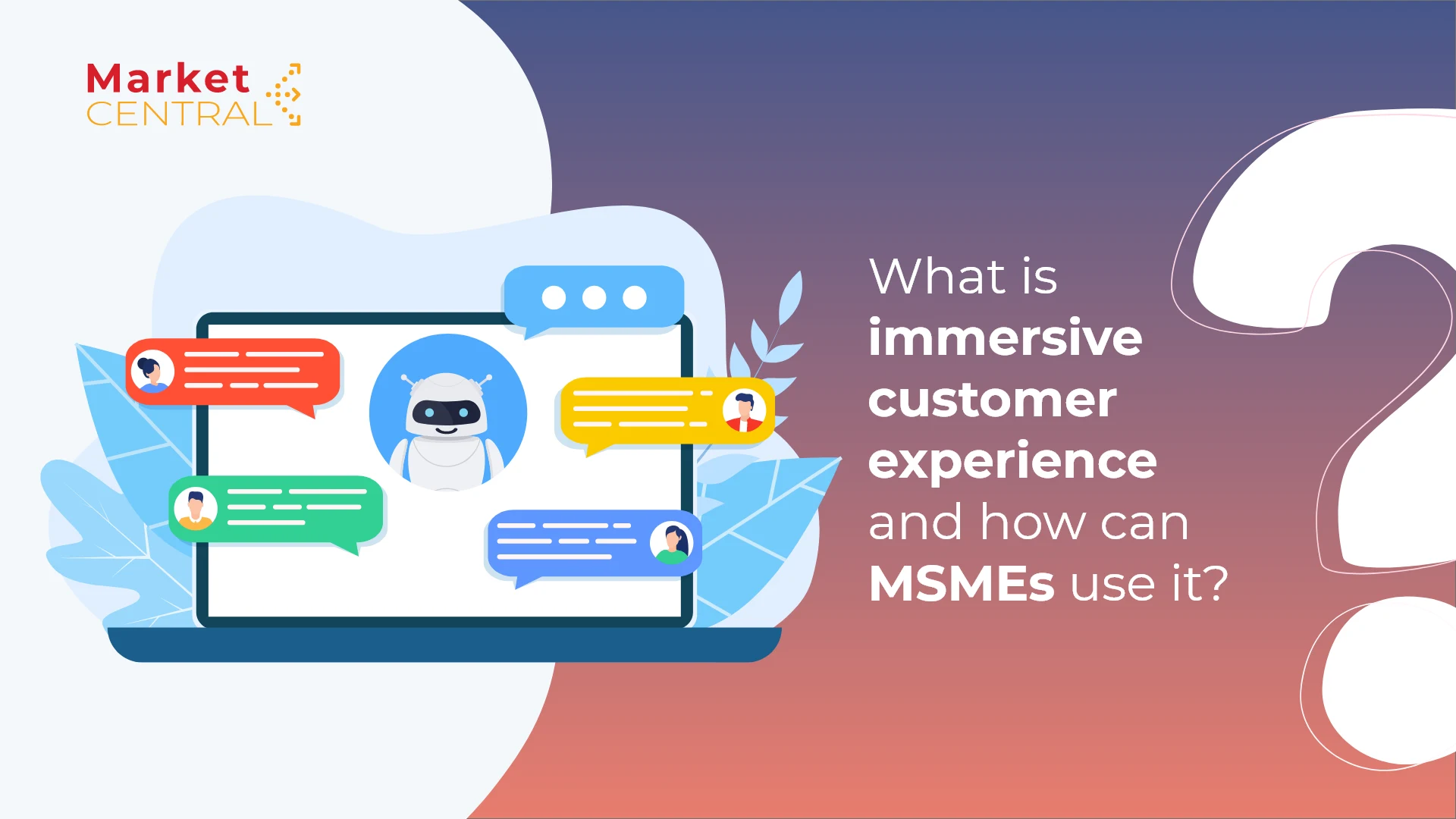 In the new world of social media, AI, and online business, 80% of customers expect more from the brands they do business with. According to the Zendesk's Global Customer Experience Trends Report, customers today have high expectations, low patience, and multiple options when it comes to who they do business with. This means that MSMEs have to create convenient, simple, and natural customer experiences to increase their customers, profit, and customer loyalty.
95% of Indian businesses which have invested in good customer experience technologies report seeing a positive response. This means that great CX (customer experience) might be just the thing to create a growth trajectory for SMBs and MSMEs.
Here are some new trends in customer experience to keep in mind:
AI and Chat Bots are growing more popular. Whether it's on social media or on your websites, customers enjoy AI interactions with chatbots. 84% of Indian customers expect chatbots and auto-responders to feel more human and natural. This includes having personalized responses, communicate in a conversational way, and solve problems more easily. At present, 35% Indian businesses have invested in AI/chatbots. 45% plan to do this investment in the next 12 months.
Conversational experiences are important: For customers, friendly, natural, and fluid interactions help in becoming more loyal to a brand. This includes customer service not interrupting tasks. For example, if multiple customer support representatives are involved in solving a particular customer's query, the customer expects that they easily communicate among themselves to solve problems quickly. 80% of customers in India dislike repeating their query to multiple CX representatives and enjoy spending time with businesses that provide a more friendly and seamless experience. Only 64% of businesses currently have implemented a more conversational customer service.
Customers want deeper personalization: At least 50% of customers in India want companies to increase personalization. This means more customer experiences tailored to fit a particular customer - such as specific recommendations, personal email marketing, quicker follow-ups to past purchases, and meaningful communications with customer service. 87% of customers want businesses to have access to past purchases, context from interactions, and other information handy so that they can do business faster and easier.
Customer well-being and emotions matters for business: With reviews, social media platforms, and forums where customers can discuss brands, the emotions of customers to your brand can make all the difference. Delighting customers through freebies, vouchers, or a great communication experience leads to more loyalty. Similarly, a negative experience with communication can cause upto 66% of customers to exit immediately and stop buying from the business.
Read more:
How MSMEs can improve Customer Retention: https://www.marketcentral.in/market/viewpoint/34/importance-of-customer-retention-for-MSMEs

4 strategies for B2B MSMEs to improve customer experience: https://www.marketcentral.in/market/viewpoint/11/B2B-Customer-Experience