How to implement ISO 9001 for Your Small Business?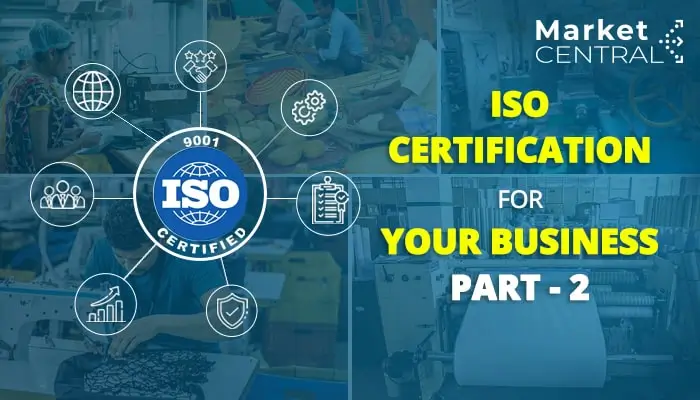 What is ISO 9001?
In Part One of this series, we covered what ISO 9001 is, why you need it for your small business, and who is required to get an ISO 9001 certificate. In this part, we will cover how to implement ISO 9001 in your business, and what you can do to get a certification.
To quickly recap: an ISO 9001:2005 standard is necessary for your business to establish a way to continually improve and satisfy your customers. It provides quality assurance in all aspects of your business, make it so that no consumers feel cheated, and helps your business set in place a process to evaluate leadership, risk, or any difficult circumstances.
Implementing the ISO 9001 standards in your business
Here are the steps your business can follow to implement ISO standards:
Review your business: Be sure to set your goals. What do you want the most out of getting an ISO certification? Do you want to make your business processes better or strengthen your marketing first? Create smart, achievable goals, and carefully evaluate how far your business is from achieving those goals.
Consider your competition and customers: Do a careful study of what other businesses like you are doing, and the quality standards they are following. When you set standards in place, do a cost-benefit analysis so that your business can get a competitive advantage. What can you do better to grow faster? Similarly, consider what benefits you can provide your customer by adding quality standards. Consider adding goals that will improve customer loyalty.
Pick an implementation approach: After you are clear on your goals, pick an implementation approach. This means that you have to decide whether your business will go for a Do-it-Yourself certification, or take the help of a consultancy/agency to help you with the process. Many independent agencies, organizations and consultants can help you with ISO certification for a fee. If you plan to choose one, carefully do research to see if they have verified ISO auditors or trained professionals on board.
Get trained: Make sure that you understand the ISO 9001:2005 standard, what it means for your business, and how to review your progress. You can do this with the help of expert consultants or by taking online courses. There are also many small agencies that conduct ISO training.
Get your documentation ready: This is an important step. You will need to study each clause of the ISO 9001:2005 standard and create documentation on how your business will achieve it. Your ISO 9001 certification will require you to produce documents such as: quality policy, quality objectives, scope statement, work instructions on how to perform the jobs in your business, process maps etc. These documents must fit your business and explain how and why your company will conduct daily work, as well as react to various situations, issues, risks or processes. This will help your business understand how to manage the quality in all the things that your business will do. It is also possible to get documentation templates in the market to make it easier.
After documentation, get your employees on board: Explain to your employees about all the different processes and work instructions that will help control the quality of your business. Help them adjust and improve their work processes to fit your documentation. Introduce them to step-by-step directions on how to perform their work as per the documentation. Make sure that these are user-friendly, easy to follow, and actually help your staff do their work better.
Audit internally: Conduct inspections to check if your ISO 9001:2005 system is implemented. Observe how work is being done, and records are being kept. Make any changes if required.
Get certified: To get your ISO 9001 certification, your company will need to be audited by an independent, third-party auditor. 1-2 months of records will be needed for your company to be audited. The auditor will check for how well your company is following the quality guidelines set up by you in the earlier steps. They will evaluate work processes inside your company and analyze the performance criteria according to which your staff operate. If there are no major problems, your company will be ISO certified.
After ISO certification
Once your company is ISO certified, you should tell the world! Get the benefits of marketing it to customers, such as increased customer loyalty and access to new business partners. You can perform some of these activities to let everyone know your business is ISO certified: create a press release, send notifications, add ISO mark to your business cards etc.
At SMBXL, the parent company of MarketCentral, we have gone through the certification process and obtained our ISO 9001:2005 certificate. This means that we have worked on our quality control procedures, and always follow quality management practices that contribute towards making us a trustworthy business. Our customers, partners and users can trust us to create transparent records, follow our policies, and comply with authorities.
Through some work and dedication, you can also get your business certified to reap greater benefits and improve your business for the better.