What is Your Target Market? - Part Two : How to define your target market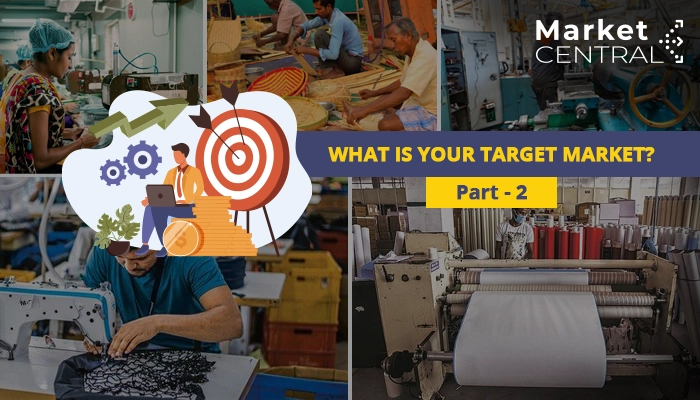 In last week's Viewpoint, we covered what target markets are and why they're important. This week, let's discuss tools and strategies to identify the right target market for a business, and how MSMEs can use this knowledge to increase sales and boost brand loyalty.
Finding the right target market is a crucial step that can make-or-break a business's journey to success. Knowing your customers will allow even a small business to compete with larger companies.
How can you correctly identify your target market?
Know your customers:Knowing the likes, dislikes, habits, and preferences of your past and current customers can help you understand what they have in common. This makes it easy to market your product/service to other people with similar interests.

Ask questions like:

What is the age group of the people purchasing your product?
Which languages do they speak?
What hobbies and interests do they have?
How much money are they usually willing to spend on products like yours?
These details can help you create ad campaigns that better capture the interest of potential customers. They also help you make decisions about the pricing and design of your product.
For example, a business that sells footwear in Mumbai might have middle-aged, male customers who walk to work every day. Such a business should focus on advertising the durability and comfort factor of their shoes at affordable prices. However, if the business's customers are people who like to purchase sports drinks or gym equipment, then this means that they would be more interested in buying sports shoes and athletic wear from the business. The sports-shoe customer might be looking for high performance and may be prepared to pay a higher price than the walking, middle-aged customer.
If you're a business-to-business (B2B) enterprise rather than a business-to-consumer (B2C) one, then your focus must be on knowing the kind of businesses that require your product and which industries they belong to. For example, a business dealing with packaging items and cardboard boxes can target local businesses selling stationery or ceramic utensils to help them package and transport their products.
Know your USP: To stand out in a competitive market, you should know the USP (Unique Selling Point) of your product. You can determine this by asking for reviews from customers and listening to their testimonials. Your USP is something special that only you can provide your customer. For example: a shoe brand's USP can be that it is long-lasting, or good for long distance runners, or low price.

Know your competition: By evaluating the social media posts, website designs, ad campaigns and branding of your competitors, you can learn a lot about the audiences they target. Look at the people who interact or engage with their social media posts and understand what your competitor's USP is. In this way, you can find sections of the audience that require the features your products/services have. Then you can advertise this aspect of your business more strongly to them.
With MarketCentral, you can easily set up a website for your business which makes your business more trustworthy and memorable. A MarketCentral website can also give you access to website analytics and valuable data about your customers. You can also network and connect with other businesses on MarketCentral's platform, to gain access to more target markets and customers.
Customer testimonials, billing solutions and even logistics support for pick-up and delivery will be available for you – all in one place
What Is Your Target Market – Part 1:https://www.marketcentral.in/market/viewpoint/31/what-is-your-target-market
Increase traffic to your website: https://www.marketcentral.in/market/viewpoint/28/increase-traffic-to-your-website