Get Online, Grow Big: Digital-First Small Businesses Are Prepared for The Future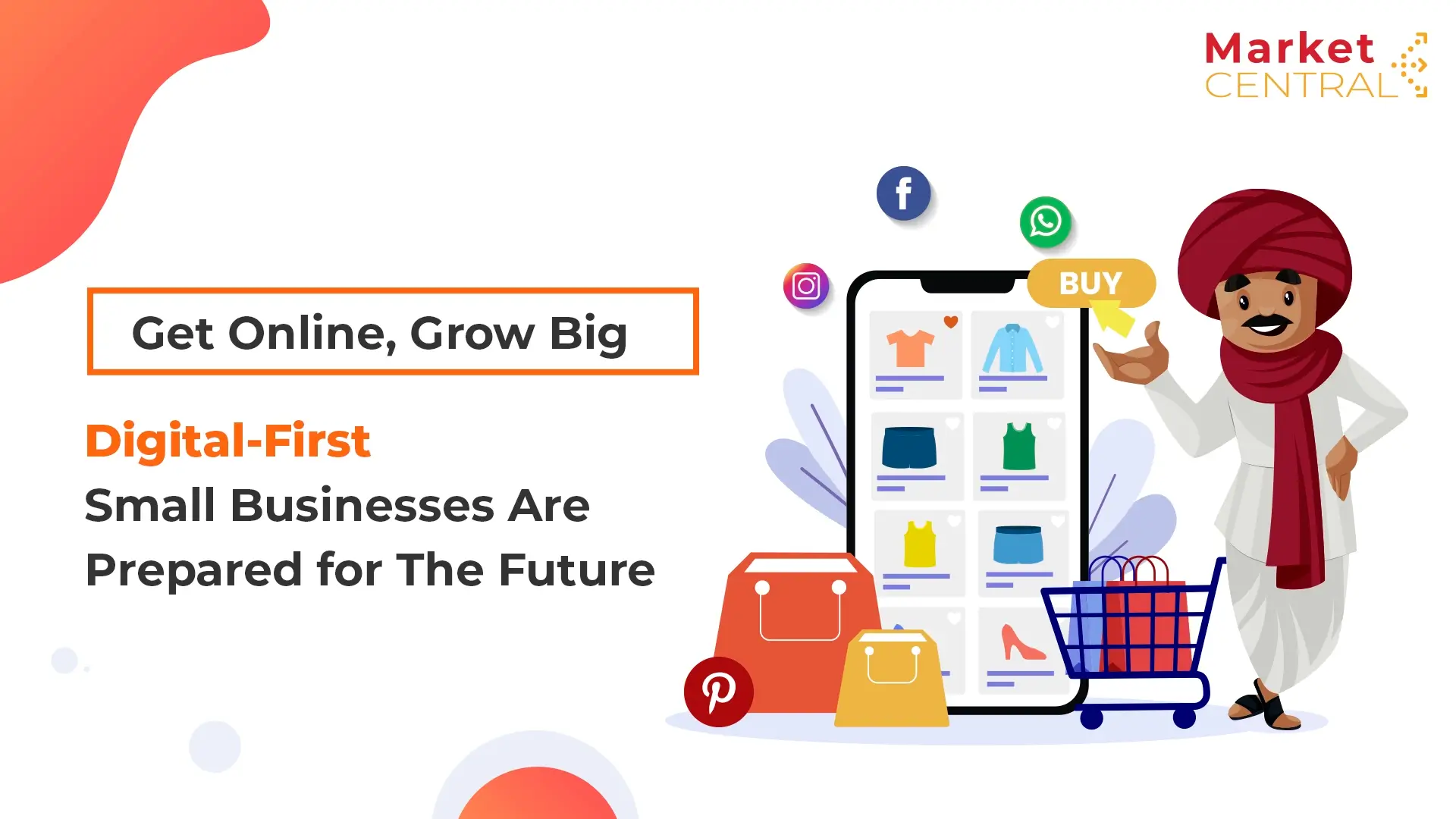 At MarketCentral, we believe businesses of any size can scale up, grow, and sustain online. Moreover, we believe that every business owner deserves to do business their own way- without worrying about low margins, deep discounts, copycat products, and lack of regulation. That's why MarketCentral is designed to help micro, small and medium enterprises (MSMEs) create and manage their own business online, with no commission agents, middlemen, extra costs, or hidden charges.
We want small businesses to think digital-first. This is because:
India is the world's second-largest internet market.

India's e-commerce sector will have a market value of 350 billion US dollars by 2030

As of February 2022, India has a digital population of 900 million active users

From 27% in 2015, internet penetration in India has reached ~49% in 2022

Social media applications such as Whatsapp, YouTube and Instagram have drawn over 467 million users

Both rural and urban areas have high internet use. In 2021, 352 million users from rural India were on the Internet, while in urban areas this number was 294 million.
Going digital-first thus has many advantages. From increased productivity, more customers, better profits, and the ability to offer better customer services, going digital-first comes with a lot of benefits.
But what exactly does digital-first mean?
Digital-first businesses are always thinking digitally. These businesses will look to grow faster by going beyond local or state boundaries. They will look for customers online on social media, through their website, and find buyers, suppliers, and even delivery online.

Digital-first businesses manage everything from lead generation to financial transactions online, making sure that they have e-billing, e-receipts, and digital payments available to customers.

Digital-first businesses train their employees to work with the customer base who are online more and more these days, by providing digital customer services, sending out digital marketing emails, and creating e-invoices.
In India, the facts and figures prove that many small businesses have already made the move. A 2021 Small and Medium Business Trends survey brought up this scenario:
After Covid-19, 59% of small and medium businesses in India expanded ways in which customers can reach them.

Of them, 99% of SMBs planned to offer contactless services to customers, with 78% choosing digital payments, 68% taking mobile orders, and 62% giving digital customer services.

71% of surveyed businesses said that their customers expect online transactions.

71% of businesses also said that their business survived the pandemic because of digitization.
Going digital-first not only improves the bottom line, but also prepares businesses for future situations like the pandemic, economic shocks, or changes in customer behavior.
With customers and competition both going online, now is the best time to leverage having an online presence.
Read more from Viewpoint:
The importance of Sustainable Growth for businesses: https://www.marketcentral.in/market/viewpoint/36/importance-of-sustainable-growth-for-business.
5 ways to keep your online business growing: https://www.marketcentral.in/market/viewpoint/27/keep-online-business-growing.