Marketing Moves: Why this is the Best Time for MSMEs to start digital marketing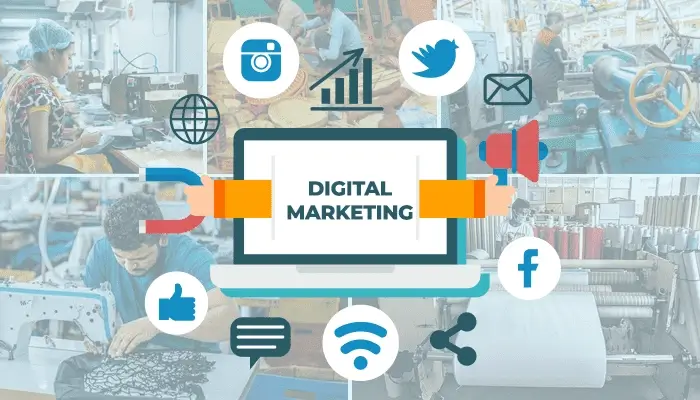 What's the News:
The numbers are in! 75% small to medium sized enterprises expect their operations to go back to pre-COVID levels in 2022—but this time with an added online twist.
MSMEs have started to adopt digitization. 83% businesses are now "focused on digital resiliency initiatives" while 57% businesses have introduced automation in their operations. (Source: SAP reports).
With MSMEs now going digital, this is the right time to begin marketing online. Let's look at some aspects of online marketing to get started!
What is digital marketing?
The term digital marketing simply means marketing online. Instead of promoting businesses on TV or radio, businesses now choose to promote on Facebook, Instagram, Email, SMS and other channels.
Why should MSMEs start digital marketing?
More customers now prefer to buy, sell and network online. Today, Indian customers spend up to 4.8 hours daily on their mobile devices. This makes it very important for MSMEs of all sectors to be present online.
Where do you start?
MSMEs can start on Facebook, Twitter, Instagram, Youtube or any other social media. India's social media usage is at 518 million people in 2020. Out of this, YouTube and Facebook have the largest base, with 89% users active on YouTube and 76% on Facebook.
Some simple ways to begin getting this audience through by posting about your business's products, wishing customers during festivals, and offering coupons or discounts if they follow your business's account.
What are some of the new marketing tactics MSMEs can try?
As per experts, the online video user base in India has reached 350 million people, growing 24% in the last 3 years. This means that the new marketing trends all feature easily consumable videos.
Short videos are 15-30 second videos that describe your product or talk directly to your customers in an interesting and engaging way. Reels or stories on Instagram and Facebook use music, graphics, filters or other engaging content to reach out to customers.
Additionally, 73% of social media budget in top agencies goes to influencers. Micro-influencers are influencers in your own sector who have a very good connect to their followers and can help you reach out to a large customer base. For example, a micro-influencer in the healthcare space can promote skincare products, organic mixes, healthy foods etc.
You can also stand out from your competition by creating Facebook ads, Google ads or promoted content on Instagram and Twitter. This sort of ad content is shown to customers who might be interested in products like yours.
How does MarketCentral help?
MarketCentral's contest, Business Superstar 2022, is all about providing expert digital marketing and consulting services. Our winners can get everything they need to transform their business and have a successful online presence. With researchers, marketers and SEO experts involved, Business Superstar 2022 will help MSMEs use the internet to their advantage. Click here to know more.
Know more by visit our Help page.