9 Ways to Make Your Business Data Safe and Secure Online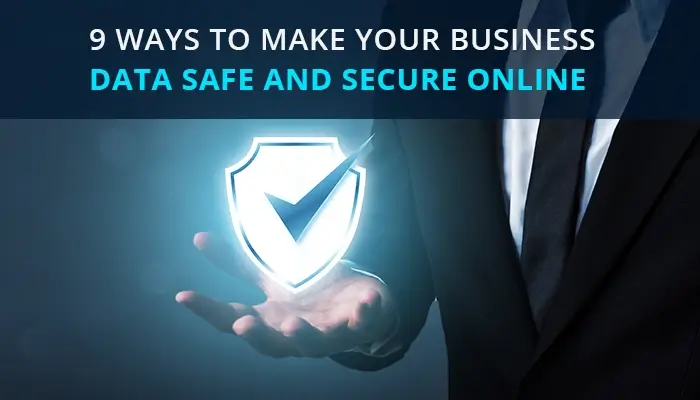 Cybersecurity is one of the biggest concerns for MSMEs. From malicious attacks to subtle phishing attempts, the internet poses a number of threats for businesses who are used to manual bookkeeping. However, with active internet users in India predicted to rise by 45% in 2025, having an online business is now a necessity. With some carefulness, MSMEs can do business on the internet without any fear of cyberattacks.
Here are some ways you can protect your business information online while getting all the best benefits of online business:
Educate yourself about the various types of cyberattacks. Fraud, phishing, DDOS attacks and more can threaten your business. Read about this kind of frauds in our previous ViewPoint article here: Ways to protect your data and build a secure online business.
Take a digital security training. Free and detailed trainings for digital security are available online, including the recently launched "Cyber Raksha Kavach". Conducted by CII-CDT, this awareness program is open to all and can be accessed from the CII-CDT website.
Use VPNs. While getting technical support or setting up online business tools, MSMEs should not allow external agencies to access their computers using remote access tools. This includes apps such as TeamViewer. When accessing files or apps remotely, MSMEs should always use a VPN. Low-cost VPNs are available in the market. This will protect MSMEs from ransomwares.
Use a standard email system. For communicating with employees, reaching out to customers, or sending data, MSMEs should use a standard email system such as G-Suite or Outlook instead of low-cost, unlimited email systems such as Gmail. This will help prevent email identity theft fraud.
Use an antivirus software. A low-cost antivirus software can catch most viruses, ransomware, and other malicious attacks. Having an antivirus software installed can also prevent unknown apps from installing on your computer. MSMEs must invest in a trusted antivirus system to protect their business information.
Have an active firewall system. Get a trusted technician to install an active firewall system to protect your business from external networks. This firewall can act as a barrier between your business data and external malware. This will keep your information guarded.
Make sure to perform frequent updates. Your operating system must be updated regularly to prevent any malware. Any issues or vulnerability in operating system codes are fixed in new updates. Make sure to also backup your system every couple of months. Make sure to use safe devices to backup your data, and have an internal policy around where these devices will be stored.
Enable zero-trust model. The zero-trust model is a security framework which requires all employees and users of a network to be authenticated and authorized. In a zero-trust model, every computer, user and device on the network will be verified and re-verified at all times. This will include such techniques as multi-factor authentication, advanced antivirus solutions, and cloud technology. A one-time setup and investment in zero-trust model can help make MSMEs very secure for a long time.
Make sure to choose digital commerce vendors who offer digital security. At MarketCentral, we pride ourselves on the digital security we offer our customers. Make sure that when you choose a digital commerce provider, you choose a service that prioritizes your data security. If a vendor seems asks for OTPs, or asks you to send your customer and payment information, they may be untrustworthy. Read more on good digital practices to follow for MSMEs, and on how MarketCentral keeps businesses safe here: Keep your business safe online through MarketCentral.
Read more about keeping digital payments safe here MarketCentral, your companion for limitless online business success!