What is Social Commerce and How Can it Help MSMEs?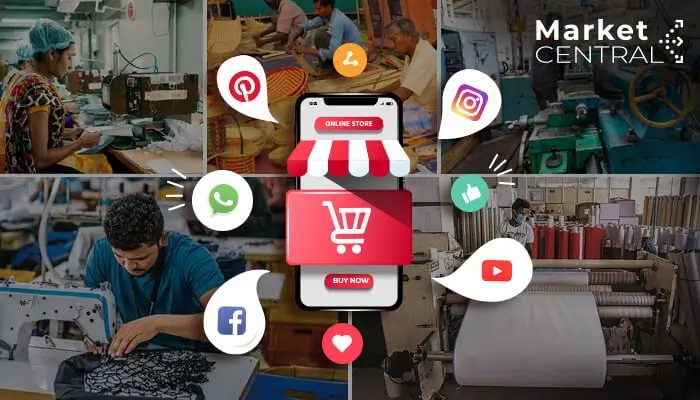 Social commerce is the process of selling your products directly on social media. Have you come across product listings on Facebook, Instagram or even YouTube while scrolling? These are examples of social commerce. By the end of 2022, India could have 228 million social commerce consumers!
Facts and figures about social commerce:
In India, Facebook is the #1 social commerce platform followed by Whatsapp, Instagram and YouTube.
Over 58% shoppers in India trust social commerce and are comfortable buying products on these platforms.
Sharing videos, photos, reels, recommendations and more adds to the experience of buying on a social commerce site.
Top categories of goods sold on social media are in Fashion, Electronics and Beauty.
Why MSMEs should use social commerce:
Social commerce is different from e-commerce. While social commerce takes place within social-media apps and experiences, e-commerce refers to shopping via a website or dedicated branded app. Social commerce is useful for MSMEs in multiple ways.
It helps you connect directly with the customers: Social media is an interactive space. Your customers can approach you easily through messages, discuss their doubts with you, and even get recommendations directly from you. This will help you build customer loyalty, user retention, and improve their brand.
It adds extra revenue channels at low cost: The initial investment to start selling on social media apps is low. If you can make your products attractive, create reels or hashtags, and develop following, then social media channels can improve revenue and increase customers for your business.
It offers ways for you to understand customer expectations and improve products. Your customers can share, review, rate, vote and recommend your products to others in their friend's groups. This will help you understand their preferences and make changes or improvements to your products. You can personalize customer service greatly through enabling social commerce.
It's where the future of shopping is. Younger generations love to shop on social commerce websites. If your products are targeted to the 18-34 age range, these customers are all already online on social commerce apps and willing to purchase. 53% of all Indian shoppers like to shop on social commerce site.
What are the best platforms for social commerce?
Facebook: With Facebook Shops, Facebook Marketplace, and Grow Your Business Hub, Facebook is a platform that allows businesses to feature their products, customize their shopfronts, target customers, and make catalogs. Facebook shops can be accessed from Facebook and also through Instagram. You can also setup in-app checkouts, create a chat with your customer, or redirect them to your website.
Instagram: 60% online shoppers discover new products on Instagram. Using photos, videos or reels, you can promote your products on Instagram. You will need a Facebook Shop to setup a shop on Instagram. You can use Facebook Pay for checkout on Instagram as well.
Whatsapp: Whatsapp for Business is used by over 175 million people daily. This is a messenger style tool where you can directly message the business to purchase products. Whatsapp for Business helps businesses manage customer chats, notifications, product recommendations, and also accept payments. Whatsapp Payments helps users send money for purchases directly within the app.
MarketCentral: can help you in your social commerce journey. Integrate your website on MarketCentral with your social media accounts to start building your following. You can also keep track of transactions, customer information, invoices and inventory of your products via MarketCentral. MarketCentral's high security, shipping integrations and business management tools help you enhance social commerce to a great degree.
Read more about how to make your social commerce experience safe here:
Lessons From Social Media Outage https:/www.marketcentral.in/market/viewpoint/8/Lesson-From-Social-Media-Outage.
Practice Safe Online Business Practices https://www.marketcentral.in/market/viewpoint/15/keeping-business-safe-online.