2023 MSME forecast: Some Key Trends for MSME in the coming year.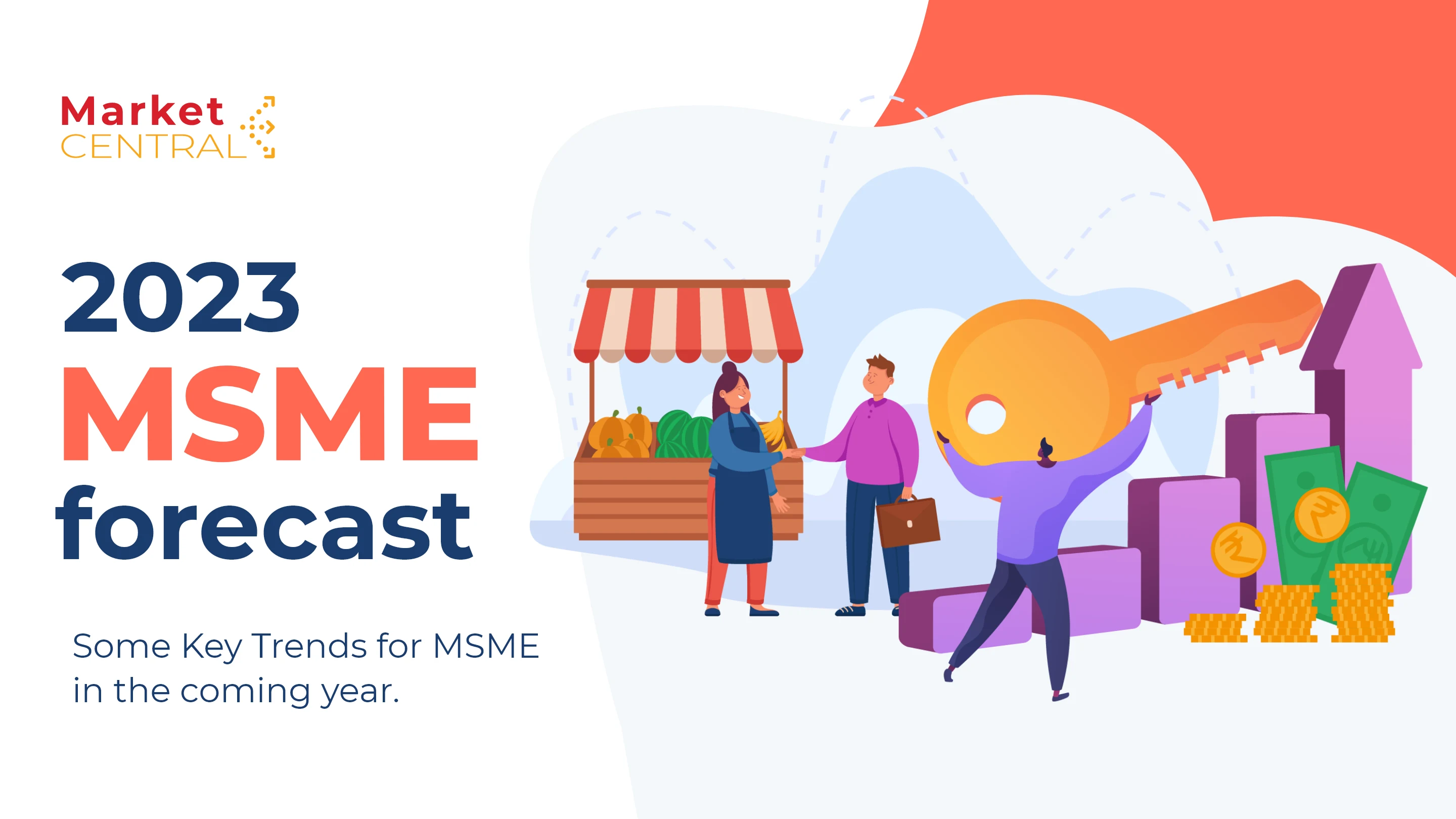 With a new year comes new challenges, opportunities, and resolutions. MSMEs (Micro, Small, and Medium Enterprises) continue to be a focus area for India in 2023, with changes across technology, finances, and policy driving MSME growth and profits. 
MarketCentral looks at a few of these growth drivers this week. 
MSMEs account for 30% of India's GDP, 95% of India's industrial units, 40% of employment and workforce, and 48% of the country's exports. With over 634 lakh MSMEs currently operating in the country, experts believe 2023 will only see MSMEs growing stronger. 
Technology adoption
According to PayPal's "MSME Digital Readiness Survey", 52% of small businesses feel positive about digitizing their business. As organizations look to make their digital transformation faster, 2023 will be all about future-proofing MSME businesses to make things sustainable. Using technology to preserve records and finances will make getting loans easier. Investing in customer experience online will translate to new market expansion, larger order volumes, and more channels of revenue outside traditional ones. As new finance, banking and insurance services powered by online channels come into play, payment modernization will also improve things for MSMEs. With services on offer such as creating websites, managing operations, maintaining digital records, pooling inventory, making timely payments, and collecting receivables, MSMEs can be fast equipped with all the tools they need to digitize. 
Brand building
2023 is expected to be a revolutionary year for e-commerce. With going online becoming easier and easier, standing out among competition is of prime importance to MSMEs. One of the great lessons for MSMEs during the pandemic was that brand building matters. 
To operate and survive in the current market, MSMEs will need to look into branding. Branding can help MSMEs expand faster, price better, and attract new talent. Brand building for MSMEs include defining a great customer experience, creating visual brand imagery such as logo and tagline, creating values for the brand such as purposes/belief as well as mission/vision, and finally managing this brand across multiple channels. MSMEs can read more about brand building here
Increasing lending
MSMEs have huge working capital requirements. New fintech organizations and government schemes are coming up with a lot of initiatives to help bridge the demand for capital. Affordable, faster and cheaper credit and digital financial services for MSMEs will be a highlight of 2023. With new government policies likely to support waiving off GST or TDS for fintech providers, MSMEs can expect easier access to bank or alternate financing options.
According to a NeoGrowth survey, 96% MSMEs expect profits to rise in 2023. Using new credit options to build and scale businesses will take MSMEs to new heights. Of 3000 businesses surveyed, 84% of them were opting for business loans in 2023. Over 80% of women MSME owners surveyed also said that they will opt for a business loan. Overall, credit lending and loans are looking to increase this year, thereby boosting MSME growth and the Indian economy as a whole. 
Sustainability
Growing sustainably is very important for MSMEs In 2023, more MSMEs are expected to invest in sustainable growth practices. This includes initiatives around energy conservation, reducing plastic usage, reducing carbon emissions etc. Policies to promote sustainability and green industries can also incentivize manufacturing MSMEs who opt for non-polluting measures of production. For example, the government-backed Neev Fund 2 will provide capital for SMEs in the sustainability category, especially those working in areas of climate action and social impact. About 2000 crores of investment is planned by this fund, proving that sustainability will be a strong theme for MSMEs in 2023. 
Overall, MSMEs are on the path to raise India to a 10-trillion economy. Union Minister of MSMEs, Narayan Rane, said in a conclave recently that India's path to achieving Atmanirbharta will be led by MSMEs in the front. As powerful drivers for our country's future, here's hoping that 2023 will bring new energy to MSMEs! 
At MarketCentral, we equip small and medium businesses with simple resources and tools that can help them be in control of their own business. With a no-commission model, MarketCentral can be the perfect business companion for your digital journey.