Updating Your Financial Operations Can Save Your Business Lakhs of Rupees!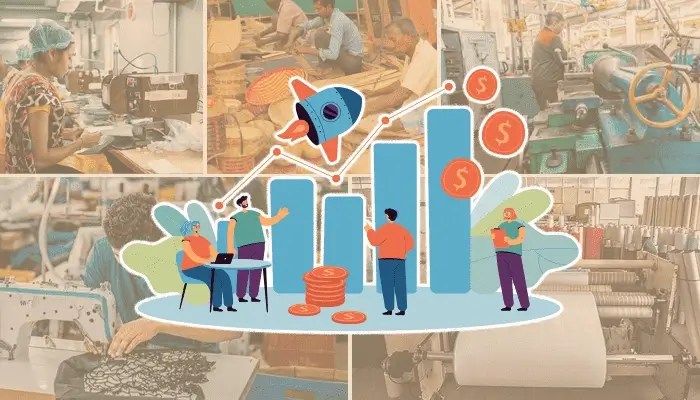 What's the News:
Small and medium businesses in India are now choosing digital technologies at a very quick rate. As digital adoption and modernization picks up, outdated business operations like manual bookkeeping, accounting, business reporting and vendor management leads to average losses of Rs. 67lakh + for Indian businesses.
1 in every 2 businesses state lack of technical knowledge and limited resources as a huge blocker to digital transformation. 45% of these businesses fear errors in financial records due to slow, traditional processes. Repetitive tasks such as billing, transaction management, or data entry has also resulted in wasted time for 56% of businesses.
We read the news here:
What can businesses do to update their financial operations?
Automate billing and transactions:Managing billing, invoicing and transaction data online with free software can lead to a reduction in the hours spent on doing the same manually. 75% businesses already wish for time reduction in data entry. Automated bills, invoices and transactions can help businesses keep a digital record of their finances, which will in turn lead to easier credit approvals. Online ledgers can also help in minimizing errors, analyzing top-selling products, or understanding a customer's purchase behavior.
Choose digital payment gateways, e-wallets, and digital commerce:Moving to a hybrid business model of offline as well as online has multiple benefits. Not only will businesses get a new revenue channel and new customers, but also, they can improve their creditworthiness. Having important data such as transactions through websites, UPI, or payment gateways improves credit history for businesses. Using this data new-age online lending companies, non-banking financial companies (NBFCs), banks, and supply chain financing platforms can lend capital, track GST data, and create new opportunities for small businesses.
Use data effectively: Having a dashboard or a custom page where businesses can see a unified view of financial data can help greatly in understanding financial health. Having transaction, payment or credit-related data in one place will help small businesses spot opportunities in terms of new markets and new customer segments. 60% of businesses in India think a unified view of transactions such as this can help them better their business's health.
By moving manual workflows and data entry online, businesses not only save up to 1446 hours a year but also pave the way for a brighter future. Moving from complicated processes and repetitive tasks to fast, simple digital models can bring incredible growth potential to Indian businesses.
At MarketCentral, we enable this through providing no-cost, easy-to-use billing, invoicing and transaction management tools on our platform.In addition, MarketCentral's offerings also include a fully-functional ecommerce website, data analytics dashboard, and integrated payment gateways which can truly give a new face to your business's financial operations.
Know more by visit our Help page.