5 Ways to Keep Your Online Business Growing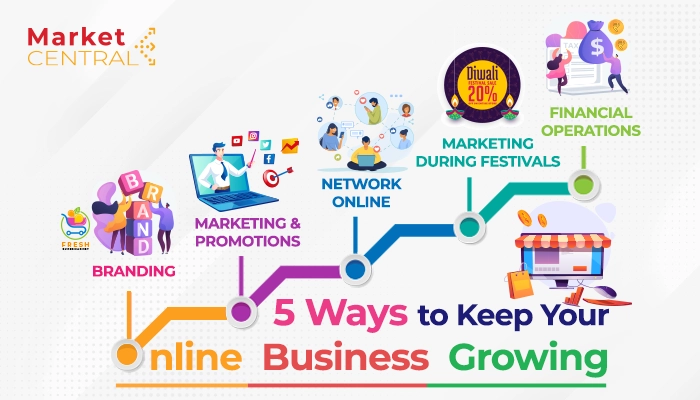 So, you've made a beautiful online website for your business. You've added some products and even gotten a few orders. Now you're wondering—how can you keep your business growing? What can you do to keep increasing orders and customers? In this week's ViewPoint, let's dive into some strategies you can use to grow your online business with ease.
We're living in a time where everyone's focus is going digital. Most businesses, however, stop their digital journey by creating a website or enrolling themselves on an e-commerce platform. After that, the promotions are mostly through social media like Facebook or Instagram, if any. But there are many more strategies to grow your business online.
Make sure your customer remembers you: Creating a brand image that your customers love and remember plays a big role in the success of a business. With huge competition in the online space, great visual logos, taglines, graphics, or how you display your products online can make your brand stand out. Read MarketCentral's guide to branding for how to approach this.
Understand marketing and promotions: Introduce your business to large audiences by thinking carefully about what channels they use to discover products. Does your customer use Facebook or Instagram more? Are they checking their e-mails or SMSes often? Use your knowledge about them to market your products or services to them. MarketCentral provides you with digital marketing tools that help bulk e-mail your customer, integrate your SMSes, and add your social media profiles. Utilize such tools to communicate with and engage your customers. Read more on MarketCentral's basic guide to digital marketing.
Build a network online:It's not only important to engage your customers through your online marketing. Other businesses might be your primary buyers or sellers. Increase your inventory, improve your stock, and collaborate with other businesses to grow your online business sustainably. Maybe your business can collaborate with a logistics business or someone who supplies important materials to improve your product. MarketCentral provides ways for you to expand your network with other businesses.
Make use of opportunities: In today's world, it is important to leverage all opportunities you may get. This might be in the form of joining associations that represent your industry or making use of government schemes that help you with financing, networking, or digitization. Look for innovative possibilities, such as marketing during festivals. Read more about government schemes you can utilize here.
Update your financial operations: According to data, outdated business operations like manual bookkeeping, accounting, business reporting, and vendor management lead to average losses of Rs. 67 lakhs plus for Indian businesses. Businesses should move to automated billing, invoicing, and GST compliance to avoid these losses. Taking these processes online can help businesses grow their online business so much more easily. Choose digital payments and gateways that help customers check out faster. Make sure to create e-receipts so that you can easily avoid delayed payments, apply for credit, and avail yourself of government schemes. Read more on MarketCentral's guide to updating financial operations.
At MarketCentral, we believe in leaving nothing behind when we talk about digitalization and online business. Growing an online business does not end with making a website or having your products online. By employing these 5 strategies, you will be able to succeed, sustain, and make your online business effective. Do all of this with MarketCentral today. Register Now.