How MSMEs Can Grow And Achieve Greater Independence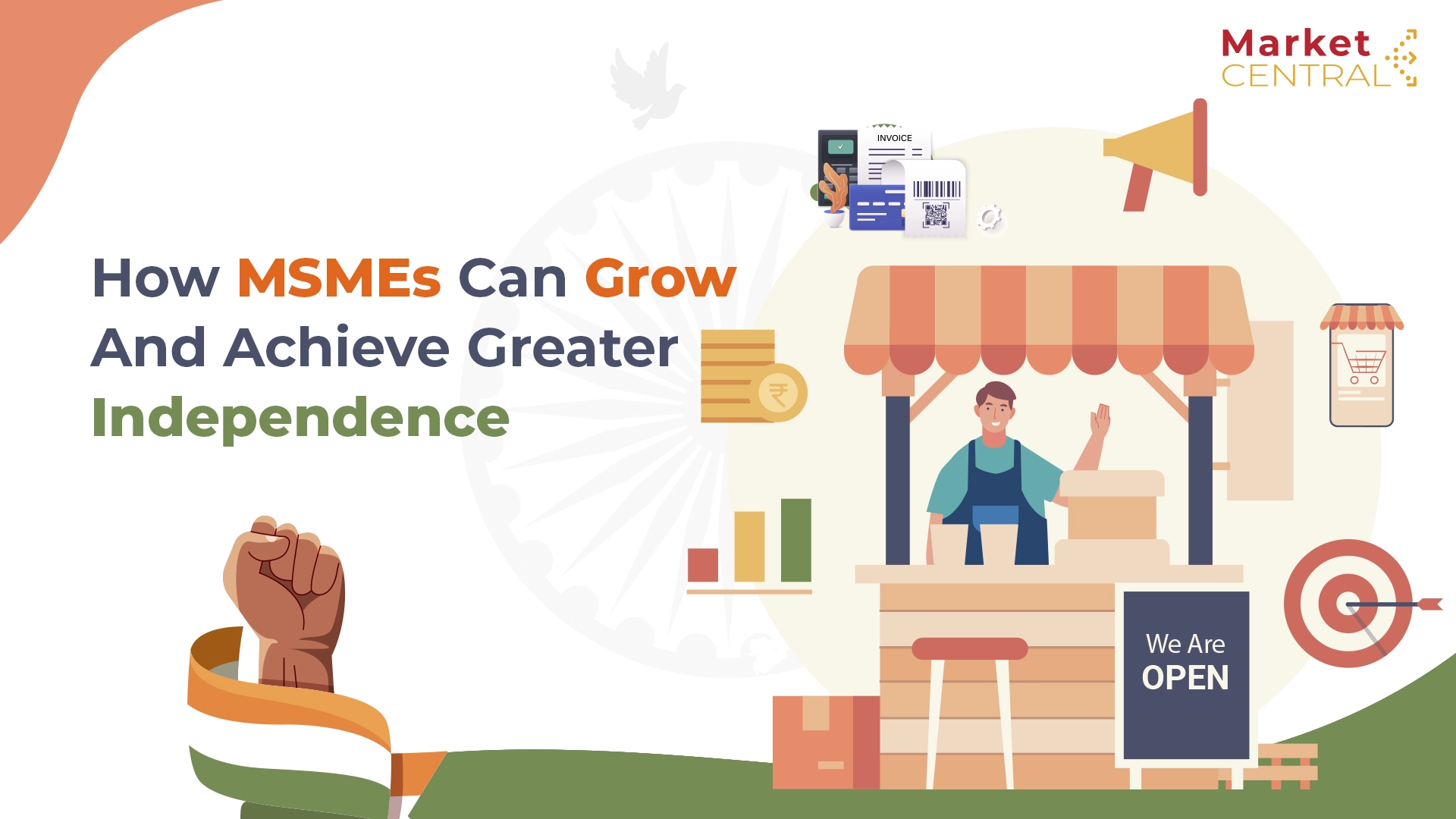 On 15th August, 2022, India will complete its 75th year of Independence. MSMEs have been crucial for the country's growth and development over the years, and they contribute to over 30% of India's GDP.
As the nation gears up to celebrate Azadi Ka Amrit Mahotsav, let's take a look at some ways in which small businesses can achieve greater freedom and independence.
Ways in which MSMEs can achieve greater freedom and independence
Greater Ease of Doing Business: More than 66 lakh MSMEs have registered on the Udyam portal to boost their Ease of Doing Business (EODB). However, approx. 90% of MSMEs in India remain unregistered. They are missing out on financial aid, tax exemptions, beneficial government schemes, and much more. By registering on the Udyam portal, businesses become eligible for loan schemes, get interest subsidies and tax exemptions. They get government support to recover delayed payments, access to government trade portals, discounted IPR (intellectual property rights) registration fees, and also special preferences for tender allocation.

Boosting exports: MSME related products comprise 49.8% of India's total exports. On 30th June, the Hon. PM of India participated in the Udyami Bharat programme which was held to reflect the government's commitment towards the empowerment of MSMEs. The PM mentioned that Indian missions abroad are being evaluated on three parameters i.e. trade, technology and tourism. The 'Capacity Building of First-Time MSME Exporters' (CBFTE) scheme was launched, which aims to encourage MSMEs to offer products and services of international standards for the global market. This scheme aims to not only put more Indian MSMEs on the global market but also encourage them to realise their export potential.

Encouraging start-ups and new innovations: The 'Raising and Accelerating MSME Performance' (RAMP) scheme was also launched at the Udyami Bharat programme. It aims to increase coverage of MSMEs in the states and also enhance existing MSME schemes. It will complement the Aatmanirbhar Bharat Abhiyan by fostering innovation, encouraging ideation, incubating new businesses and start-ups. By developing quality standards, improving practices and processes, enhancing market access and using technological tools, MSMEs can have the right support to be more innovative and self-reliant.
How can you achieve greater independence and self-reliance for your business?
Wouldn't it be great if you could run your business your way? This Independence Day, join the movement to democratize Indian business online with MarketCentral. We empower MSMEs with every tool they need to compete with top businesses on a level playing field.
Now you can take control of all your business activities from a single easy-to-use platform. You can get freedom from commission agents and middlemen, complicated softwares, unorganised logistics connections and networking problems. You can create an online website for your business in less than 15 minutes and add a new revenue channel to make your business stronger and more self-reliant.
Marketing, Billing, Networking, Logistics solutions and more - simplified on MarketCentral. Register now on www.marketcentral.in
Read more
Transport and Logistics Challenges Faced By MSMEs And The Way Forward: https://www.marketcentral.in/market/viewpoint/39/transport-and-logistics-challenges-faced-by-msmes.
Sustainable Growth (Part 2): How MSMEs Can Grow Sustainably With Three 'R's: https://www.marketcentral.in/market/viewpoint/37/importance-of-sustainable-growth-for-business-part-2.