Diwali 2021: 3 Trends in Online Business, E-commerce Inflation, and More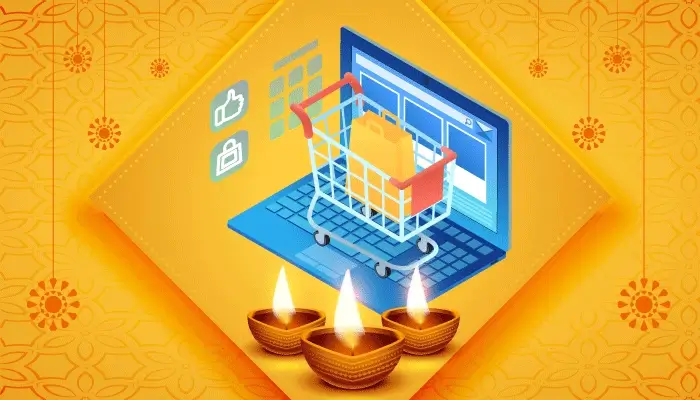 What's the News:
This year's festival season gives a lot to look forward to for small and medium businesses across India. As the first Diwali after the Covid-19 lockdowns, this season is expected to give a big lift to India's MSMEs and SMBs. Last year, most festival shopping was done online on major platforms. This year, however, things have changed with shoppers looking for personalized options, businesses hitting it big in social media, and e-commerce giants slowing it down on discounts.
Here are 3 trends to watch out for:
There's no better time to go online than now: With 75% plus surveyed customers inclined towards making online purchases, this year as well e-commerce shopping continues to win. But online shopping is no longer constrained to the big platforms. Many customers this year are turning to smaller websites and social media such as Instagram, Facebook and Whatsapp to buy from smaller businesses. Among sellers too, businesses from Tier 2 cities are now starting to go online faster than ever. As online consumption gets stronger, more customers across India will experiment with purchasing many different categories and products. This will make having an online business channel necessary even for businesses or business categories that have traditionally always operated offline.

Uniqueness and personalization can help SMBs stand up to big platforms: Across online channels, unique Diwali gifting ideas, decorations, traditional clothing, gift hampers and locally sourced sweets etc are attracting customers. In addition to traditional festive items, small business offering house-cleaning services, environmentally safe firecrackers, spa packages, and Diwali holiday planning services are also in demand. With some creativity and a presence online, this Diwali can be a brand-new experience for SMBs across India. For example, WareInnovations is a ceramic brand that created a festival special ceramic set in the shape of an Aum symbol. Phool.co, another small business, has created a Diwali special incense set. Meanwhile, Viskaa has introduced hand-painted tea kettles specially for Diwali.

Eco-trends are also rising this Diwali: From green firecrackers to diyas made from banana fiber, and eco-friendly colors for rangoli, this Diwali smaller businesses are embracing a clean and green Diwali. Some of the more interesting finds are plantable or recyclable diyas, made of bamboo or other natural materials. For example, the Artisans of Tripura's District Administration Sepahijala have created a bamboo diya that's fully environmentally friendly. Meanwhile Kraft Seeds' eco-friendly Diwali kit contains a coir pot, seed packets for vegetable and fruits, and a Diwali wishes note. It's clear that new ideas and creativity go a long way to attract customers this Diwali.

Deep discounts will drive e-commerce lesser and lesser B2B businesses must work with data from their online business and use it to improve inventory, predict demand, or increase product offerings. Using data to understand bestsellers, where your customers are from, what time they shop, or how much they buy can help B2Bs price and stock their products and so improve online business revenue.
Digitize Better to Get Better Results: Since last year, online retail prices grew by more than 3%. A report by Adobe showed that due to Covid-19, the cost-advantage offered by big e-commerce platforms have started to slow down. In time, e-commerce retailers might find it harder to offer heavy discounts. Already, this holiday season, discounts offered are between 5-25% as opposed to the usual 10-30%. As this trend develops, and campaigns like Vocal for Local or Atmanirbhar Bharat pick up, we can expect to see shifts in e-commerce that benefit more local and small businesses. As customers start to invest their loyalty in smaller businesses, act now to create a brand experience that will allow customers to find your business anywhere—whether at a physical store or online—to increase your revenue sources while offering best customer experience.
Act now:
At MarketCentral, we believe that changing and adapting to new business trends, adding new channels of purchase, and modernizing business according to the times is the best way to survive, sustain and succeed. That strong belief is why MarketCentral offers all the benefits of digital commerce under one umbrella. This Diwali season, why not register to MarketCentral at zero cost?
Take a step towards online business success.