Women Entrepreneurship and Women-led MSMEs: Schemes and Benefits PART TWO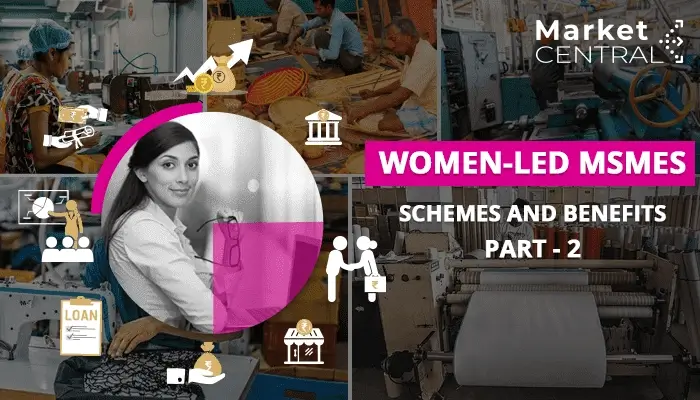 In our last article, we went through a few schemes for women entrepreneurs in the micro, small and medium enterprise (MSME) space. This week's ViewPoint will dive into a few more schemes, while also discussing what women-led MSMEs can do to grow their business and develop their digital literacy.
The latest in schemes for women entrepreneurs was launched just recently on International Women's Day 2022. Titled SAMARTH, this special entrepreneurship promotion drive for women will boost self-employment opportunities among women entrepreneurs. It was launched by Union Minister for MSME, Narayan Tatya Rane.
Under SAMARTH, 20% seats in Skill Development Programs organized by the Government will be allotted for women.
Moreover, 20% of MSME Business Delegations sent to domestic and international exhibitions will be dedicated to women-owned MSMEs.
This will help women get benefited at a governmental and systemic level, thereby leading to more robust business models and timely support.
The National Institute of Micro, Small and Medium Enterprises (NMISME) also stressed on how important it is to increase the share of women-owned enterprises. With startup incubators like WE Hub (Women Entrepreneurs Hub) and the recently launched, women-owned industrial park in Hyderabad (FLO Industrial Park) are all opportunities for women to grow their skills in all sectors from electronics to packaging, medical devices, food processing, engineering, and wellness.
So, how can women entrepreneurs take advantage of such support options, schemes, and technology?
Keep yourself updated: New schemes, benefits and packages are announced by the government on multiple occasions such as Women's Day, during budget presentation etc. Make it a practice to update yourself on such schemes once or twice every quarter. This will help women take advantage of such support systems.
Make business more efficient: Adopt digital technologies, increase revenue channels, and organize your business. Digitalizing day-to-day operations such as inventory, billing, and transaction management will free up time to focus on business. Additionally, for women with social media channels, having a website is necessary. This will help coordinate customer information, order management, and keep them safe from risks due to social media outage or severe competition on these platforms.
Improve reach and customer experience: Grow beyond one platform by setting up your business on multiple channels. Stay in touch with customers through e-mail campaigns, and make their experience special by offering discounts, customizations, or bundling. Use community marketplaces, aggregator sites, or multiple social media channels to improve branding and customer recall.
Find community support: Across cities in India, women entrepreneurs have cells, support groups, or organizations such as FICCI Ladies Organization to offer community, knowledge, and experience sharing.HEN India, Catalyst, WEFT foundation, Women Entrepreneurs India (WEI), and TiE Women all offer funding avenues, marketing support, workshops, networking, and awareness programs.
At MarketCentral, we offer entrepreneurs everything they will need to succeed online. This includes business management solutions such as billing and invoicing, inventory management, transaction management and online payments. MarketCentral also provides a free e-commerce website, with templates that match your business and options to easily add products, categories and promote them across various channels. As a woman entrepreneur, MarketCentral's team can help you start, setup, and grow your business online at no cost.