MSME and the Northeast: Part One (Assam and Nagaland)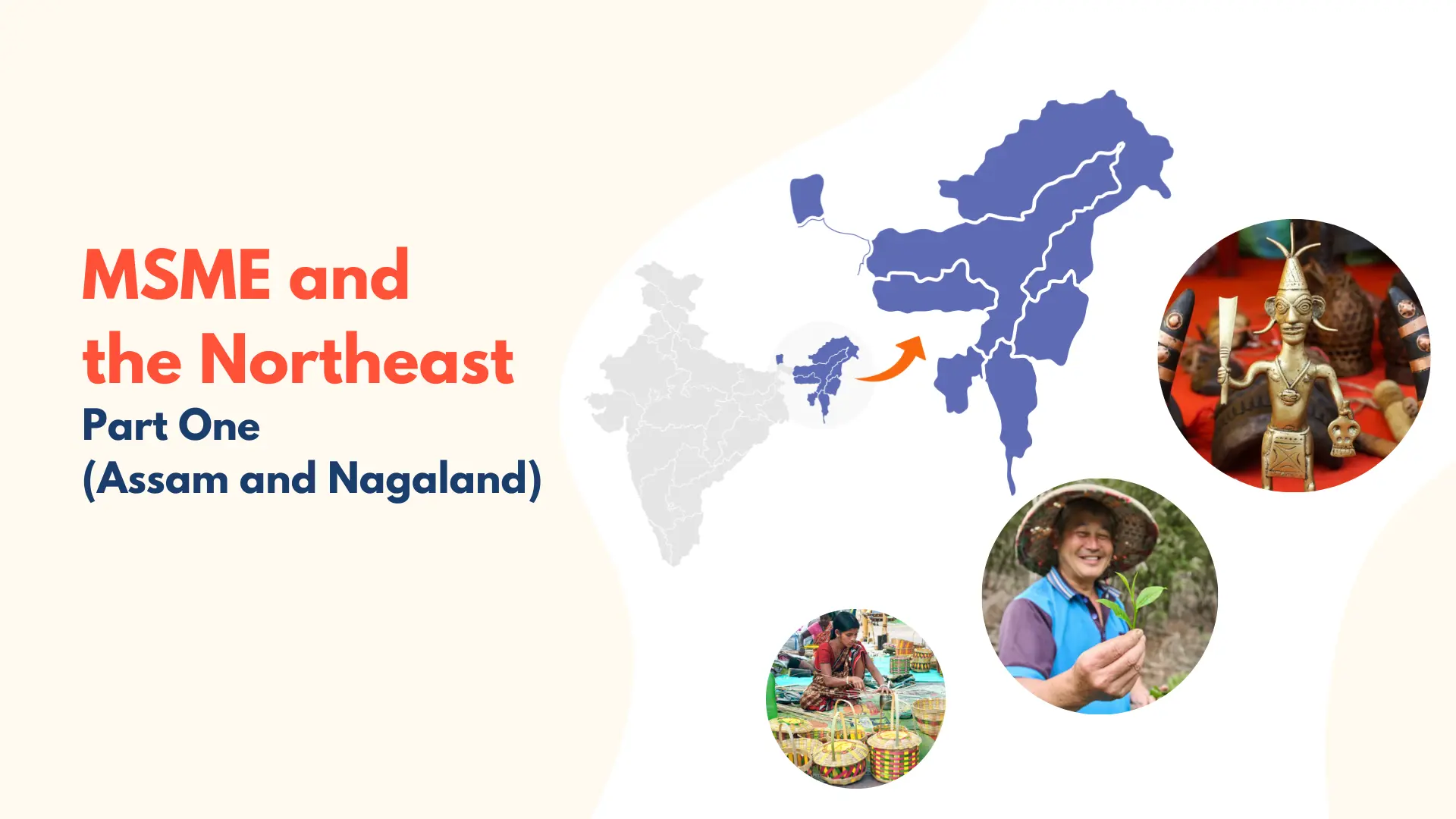 MSME and the Northeast Part One Assam and Nagaland
The unexplored potential of the North-Eastern states is bringing more government initiatives to develop MSMEs here. With schemes like "Promotion of MSMEs in Northeastern Region and Sikkim", the government has put aside crores of rupees to set up, modernize, and give financial assistance to MSMEs and small businesses in the northeast. New Khadi and Village Industries (KVIC) offices, activities targeted at women entrepreneurship, technology centers, development of handloom and textile clusters, and awareness programs will all help to make the northeast a growth sector and make the 7 sister states globally competitive.
In this series, we look at each of the northeastern region (NER) states, their growth and opportunities, and how they can compete in an increasingly global market.
Assam: Assam is in a strategic geographical position which gives it access to all the various major hubs and markets. From Bhutan to Arunachal Pradesh to the north; Nagaland and Manipur to the east; Meghalaya, Mizoram, and Bangladesh to the south; and West Bengal to the West, Assam sits at a confluence of different markets and cultures. With 2 airports, great highway connectivity, and robust educational infrastructure, Assam will likely see a big boost in MSME growth in the next years.
Opportunities and Growth:
In the recent budget, Assam's Finance Minister announced a new scheme called "The Mukhya Mantri Laghu Udyog Udagoni Aachoni". Under this scheme, Assam is expected to create more than 3000 new MSMEs and 25,000 jobs. This scheme proposes a capital subsidy at the rate of 10% of the fixed capital investment, with a ceiling of Rs. 50 lakh per entrepreneur.
The Chief Minister's MSME Interest Subvention Scheme is another new scheme to boost Assam's MSMEs. In this scheme's budgetary allocation, more than 6000 MSMEs are expected to directly benefit from the Rs. 1700 crore that will flow from the banks.
Assam's main focus sectors include bamboo processing, tea & food processing, mineral & allied products, and sericulture. Assam produces 60% of the country's bamboo, and the government provides incentives under a dedicated Bamboo and Cane Policy (2019). Assam is India's largest tea producer and produces many unique products such as indigenous varieties of rice, areca nut, black pepper, ginger, turmeric, and other spices.
Assam's sericulture includes Mugasilk (95% of global production), and Eri silk (65% of India's production). The Assam government has allocated funds to boost this sector and created Technological Information Centres.
Awareness is still a huge problem for Assamese MSMEs: 30% of MSME producers are aware of export processes and digitization, but over 70% are still not fully aware. The focus of Assam's MSME sector now is to increase "market linkage", which involves creating more exposure for the state's MSME products. To do this, Assam will have to rely on digitization, technological change, and making sure that the state's products are expanding into new markets.
Nagaland: Nagaland's rich mineral resources include coal, magnetite, limestone, and oil. The state is a powerhouse for MSME growth, with a high literacy rate (80.11%), a great IT policy, multiple software technology parks, and great road and rail connectivity. Nagaland had immense potential for agricultural and horticultural produce, including fiber, tea, coffee, pineapple, Naga King Chilly, etc.
Opportunities and Growth:
The government of Nagaland along with the Ministry of Micro, Small, and Medium Enterprises have started training programs, women empowerment programs, and expos to facilitate awareness, strategy, and growth for small businesses in Nagaland.
The Government of India's SRI fund of Rs. 10,006 crores is expected to benefit Nagaland, as is the Rs. 76,000 crore investment planned for Northeastern States this year. The launch of the RAMP portal (Raising and Accelerating MSME Performance) will also benefit MSMEs in Nagaland technologically.
Nagaland's focus sectors include agro-based industries and food processing, apiculture, tourism, and bamboo. Nagaland produces unique products such as Naga tree tomato, Naga cucumber, and Naga mircha. There is also a 1.1 MT produce of horticulture which includes fiber, pineapple, orange, and citrus fruits. Nagaland produces 430 MT of honey in the state, and a Nagaland Beekeeping and Honey Mission (NHBM) was created to promote and develop beekeeping in Nagaland.
There are also emerging sectors in Nagaland that include a lucrative minerals sector with vast deposits of unexploited resources like limestone, nickel, cobalt, magnetite, copper, zinc, granite, and petroleum. There is also a high potential for white and green marble, ceramic glazed tiles, ceramic crockery and insulators, and slate.
With a great IT policy and multiple IT parks, Nagaland's young population is primed for success in the MSME sector. With awareness workshops, upcoming credit schemes, and improved digitization, Nagaland's entrepreneurs can look forward to a more global future and easier access to world markets.
MarketCentral is already home to many businesses from the northeast. Our northeast businesses include food products, jewelry, handicraft, toys, clothing, leather products, and even services such as wedding and event photography. By joining MarketCentral, these businesses have decided to do their business their own way. Among their reasons to choose MarketCentral were:
simplicity and ease of use
could create their own website for free in less than 30 minutes
no commissions or joining fees
the ease of reaching more customers.
MarketCentral's features of networking, inventory sharing, and our robust ecosystem of logistics and delivery can also help these businesses flourish on our platform.
Are you a business from the northeast looking to grow online? Take our quick survey to get expert business tips based on your business type.
At MarketCentral, we equip small and medium businesses with simple res every week through ViewPoint. Let us know what you think about this article at support@marketcentral.in. For more, you can follow our social media handles below: