Why Automating Your Business Operations Can Make Your Business Smarter and More Efficient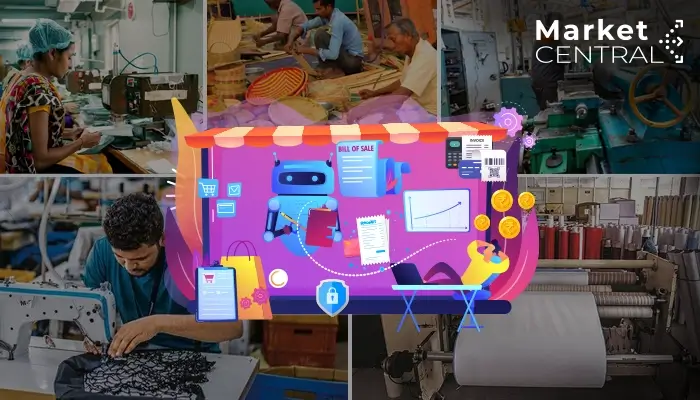 The MSME sector contains two categories: manufacturing and services. Currently, it employs more than 11 crore Indians. Recent surveys have said that over 65% of MSMEs have started to adopt digital channels for growth during the Covid-19 pandemic. While most MSMEs understand 'digital' in the form of UPI payments or online websites, a good online partner can also help MSMEs make their day-to-day operations easy.
Here's why automation matters to your small business:
Automation saves time: Many small and medium businesses spend a lot of time doing repetitive tasks such as billing, creating quotations, and data entry. Investing in automating these tasks helps businesses to save valuable time. Automating tasks frees up time for employees to spend on other tasks such as marketing, new product development, or growth strategy. For example: automated billing allows you to charge customers without manually generating and sending invoices. It reduces mistakes, creates more time for other important tasks, and also is a smarter way to track cash flows.
Automation can improve marketing: Businesses can increase their repeat customers and improve customer experience by automating marketing. Setting up bulk emails to customers to tell them about new products, offers, or discounts can increase the number of orders. Timed e-mails that alert customers about product delivery, or about their quotations, can also improve customer experience and keep them coming back to you.
Automation can help with compliance : SMBs need to be careful about their compliance rating as this will directly affect their ability to do business with others. A good GST compliance rating signals to other businesses that your business is compliant with the tax department. The compliance score is calculated on the timely filing of monthly and annual returns, input credits used, taxes paid etc. Having automated bills, e-receipts, transaction details and quotation information can make GST compliance much easier. Manual errors, lack of records, and traditional bookkeeping might find it harder to keep up. As of 2022, the government of India has also made e-invoicing mandatory for businesses of Rs. 50 crore turnover or more.
Automation can improve customer experience: By automating basic customer experience functions such as ticket generation, quote management, account management, transactions and invoicing, small businesses can free up time and energy to do more important work such as company branding, new channels, social media presence or personalization.
Automation can make getting business loans easier: small businesses can get credit faster by creating a system of documentation, e-receipts, and online bills. These documents not only help businesses establish creditworthiness, but can also make them more authentic, thereby leading to faster loan approvals. Several credit-lending authorities including fintech platforms, banks, and even organizations like the RBI are using e-receipts and e-accounts to enable giving loans to MSMEs.
Automating billing, invoicing, transactions, and customer service can greatly improve small and medium business operations. With cost-effective digital receipts and accounting, SMBs can organize their business data, apply more effectively for loans, and improve time spent on repetitive tasks.
At MarketCentral, our billing and invoicing solutions can help SMBs replace time-consuming manual bookkeeping. With transaction management, customer information management, and inventory management at your fingertips, your business operations can be made simple, effective, and compliant.
Register now to explore how your business can be automated.
Worried about your data's online safety? Read more to see how MarketCentral gives your business the best security here.